Business Process Re-engineering is in fact the redesign of existing business processes to achieve desired improvements in productivity, procedure times and quality. For business process re-engineering, organization rework on existing processes to deliver more value to the customer. Business process re-engineering (BPR) is just a business management strategy focusing on the analysis and design of process flow and business strategy within an organization.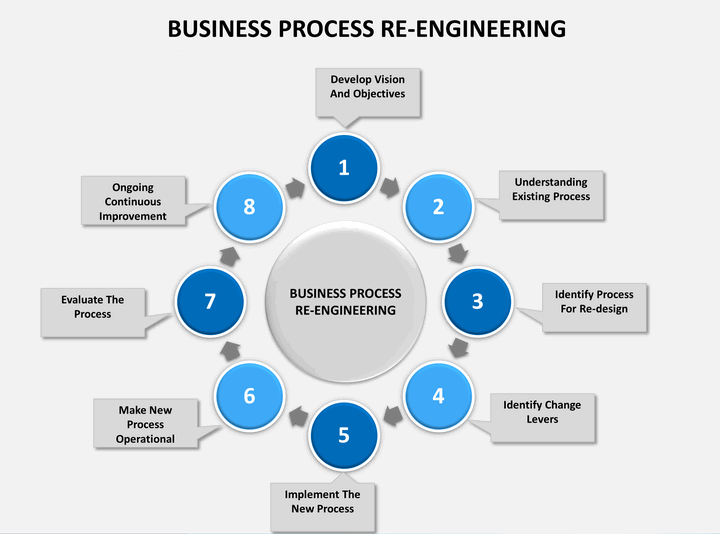 As we all know that the business process is a set of tasks performed to achieve a defined business outcome. It helps in restructure companies basically by focusing on the ground-up design of their business processes. Re-engineering continues focus on business objectives and the processes related to them.
Process of re-engineering starts with a process specific assessment of the organization's mission, objectives and customer focus. In this procedure basic assessment of mission and objectives, re-engineering focuses on the existing business processes, the steps and procedures that control the resources are used to create products and services.
In order to meet the requirements with BPR, the organisation needs to have a process-driven approach in all aspects of activities. As organisation face challenges and difficulties in implementing all the requirements of BPR, NucleusInc as a BPR consultant provides multidisciplinary business management solutions with the help of our management experts, supported in its initiatives and efforts by experienced and reputed experts in field, who have successfully undertaken Business process re-engineering consultant projects. Our methodology provides a step by step and staged approach, which is practical for the organisations.
Our services as Business process re-engineering consultant include the following.
Capability statement: We can provide consultancy to any organisation with any strengths for Business process re-engineering.
Business process re-engineering implementation guidance: We provide Business process re-engineering service according to the needs of organizations if they want our expert guidance for the implementation of the Business process re-engineering for maintain the same.
Business process re-engineering internal audits: We have completed so many Business process re-engineering consultant projects and hence have developed internal competence in providing regular internal audit services based on Business process re-engineering.