Capability Maturity Model Integration (CMMI) is a process improvement training and appraisal program for IT Companies. It is required for IT Companies, especially in software development. CMMI models provide guidance for developing or improving processes that meet the business goals of an IT Company. A CMMI model may also be used as a framework for appraising the process maturity of the company. Now CMMI process is governed by the CMMI Institute, a newly created organization at Carnegie Mellon.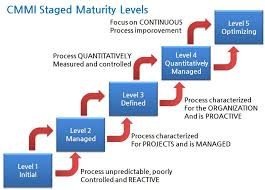 Earlier CMMI introduced in software engineering but now has been generally used in other areas of work, such as the hardware products development, delivery of all kinds of services and the acquisition of products and services. CMMI is the next step of the capability maturity model (CMM) or Software CMM.
NucleusInc is a one stop solution for the process excellence initiatives for productivity enhancements, improving operational efficiency & effectiveness and bottom line growth. Our quality projects with the clients has helped them achieve a competitive edge by significantly reducing the operational cost and increasing the cash conversion flow and customer satisfaction.
Our services for CMMI include the following.
Gap analysis & closure: We provide additional CMMI Consulting service of analysis & closure of gaps wherein expert CMMI consultant verifies the closed gaps.
CMMI implementation guidance: We provide CMMI Consulting service according to the needs of organizations if they want our expert guidance for the implementation of the CMMI project for maintain the implementation.
CMMI Audits: We have completed so many CMMI Appraisals and hence have developed internal competence in providing regular internal audit services based on CMMI Model.